15 Degree Wire Collated Coil Nails -
15 degree wire collated coil nails also called pallet nails, because they are widely used in pallet construction. It is also used for wooden crates and various floors. The nails are provided in the form of welding coils for efficient work on the production line.
15 degree wire collated coil nails production details:
● Other product name: wire coil nails, coil pallet nails, coil wire nails
● Finish: vinyl coated, polished, HDG
● Head Style: flat head, mesh head
● Shank Type: Smooth,ring, screw
● Shank Diameter: 2.0mm-6.5mm
● Packing: box, bag, carton, or as your requirement
● Material: low carbon steel q195 iron wire rod
● Usage: Construction, fastening,woodworking
● Production process: wire drawing, nails making, polishing, vinyl coated, packing
● Payment: All payment term can negotiate, generally by TT, L/C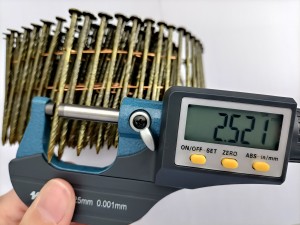 Our details specification: If you need other size, please contact us.
Item 

             Diameter(mm)

        Length(mm)   

       Head Diameter(mm)

  Coil nail   

2.05-2.15

25-27

4.8-5.0

2.05-2.15

32-40

4.8-5.0

2.05-2.15

45-55

4.8-5.0

2.20-2.30

38-45

5.5-5.7

2.20-2.30

50-55

5.5-5.7

2.35-2.45

40-50

6.3-6.5

2.35-2.45

55-60

6.3-6.5

2.35-2.45

63-70

6.3-6.5

2.65-2.95

57-65

6.5-6.8

2.75-3.10

70-90

6.5-6