Corrugated Metal Roofing Nails -
Corrugated metal nails are one of the indispensable nails in roof construction. The materials of metal corrugated nails are also different. It including galvanized, aluminum, copper and stainless steel. Different materials can adapt to different environments.
Galvanized metal corrugated custom is one of our main products. Its raw material is Q195, Q235 carbon steel, 304/316 stainless steel. Galvanized corrugated metal nails are electro-galvanized or hot-dip galvanized-and coated with a zinc layer. It can avoid rust.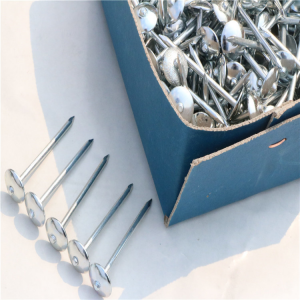 The main purpose of roof nails:
Fix asphalt shingles, insulating plates, and metal plates.

Install roofing felt for waterproofing

Fix the fiberboard in place
What kind of corrugated nails can we provide?
Our company provides galvanized smooth handles, spiral handles, roof tops with gaskets.

Spiral shank roof nails are used to hold wood and pallets in place without slipping. Even in bad weather, nails can firmly fix the roof, so there is no need to worry about the roof cracking! Compared with other roof nails, its tip is sharper and it can be nailed into the roofing material without cracking.The roof top that is used for light release is a smooth-handled roof top. Although it does not have a high-strength fixing. It is an economical and competitive choice.
The dimensions of the roof top we provide are as follows: the specifications can be customized.
| | | | |
| --- | --- | --- | --- |
| Specification | Length(mm) | Rod Diameter(mm) | Head Diameter(mm) |
| BWG8*2″ | 50.8 | 4.19 | 20 |
| BWG8*2.5″ | 63.5 | 4.19 | 20 |
| BWG9*1.5″ | 38 | 3.73 | 20 |
| BWG9*2.5″ | 63.5 | 3.73 | 20 |
| BWG9*3″ | 76.2 | 3.73 | 20 |
| BWG10*1.75″ | 44.5 | 3.37 | 20 |
| BWG10*2″ | 50.8 | 3.37 | 20 |
| BWG10*2.5″ | 63.5 | 3.37 | 20 |
| BWG11*1.5″ | 38 | 3.02 | 18 |
| BWG11*1.75″ | 44.5 | 3.02 | 18 |
| BWG11*2″ | 50.8 | 3.02 | 18 |
| BWG11*2.5″ | 63.5 | 3.02 | 18 |
| BWG12*1.5″ | 38 | 2.74 | 18 |
| BWG12*1.75″ | 44.5 | 2.74 | 18 |
| BWG13*1.5″ | 38 | 2.38 | 15 |
| BWG13*2″ | 50.8 | 2.38 | 15 |
| BWG14*1.75″ | 40 | 2.1 | 14 |