Barbed Wire Coil -
This barb wire coil is made of high-quality materials used for protecting your property. Barbed wire is designed to help prevent intruders from entering in your property.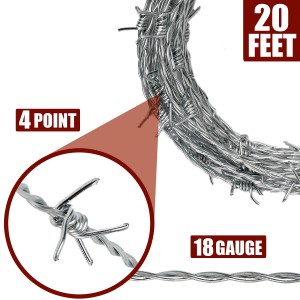 Barbed wire coil application:
This barbed wire fence can be used in farms, garden, yard, etc. Barb wire fence can be rolled around the top of the fence to add protection in your property.
2. Crafts and Projects:
Barb wire has many uses such as for arts, crafting, designing such projects like barbed wire wrap around a baseball bat. It can form to a position that you want.
Material: Barbed wire coil use high-quality low-carbon steel wire (galvanized, plastic coated, sprayed), twisted and braided with PVC wire; available in blue, green, yellow and other colors, PVC barbed wire core wire can be galvanized wire or black wire.
Core: Galvanized wire or black annealed wire
Color: green, blue, yellow, orange, gray or other
Tensile strength: 30-45 kgs./sq.mm
Packing: 25kg or 50kg/reel, wrapped with P.V.C tape
Features: anti-corrosion, anti-aging, anti-sun, durable, etc.
Barbed Wire Specification:
Single barbed wire
Wire gauge(mm)
Barbed spacing(inch)

1.8×1.8

1.96-5.9″

2.0×2.0

2.2×2.0

2.2×2.2

2.5×2.2

2.6×2.2

2.7×2.2

2.8×2.2
Double twisted barbed wire
Wire gauge (mm)
Barbed spacing (inch)

1.4×1.4

4″-5″

1.5×1.5

1.6×1.6

1.7×1.7

1.8×1.8

1.9×1.9

2.0×2.0
 PE/PVC Coated barbed wire, stoving varnish barbed wire
PVC/PE coated barbed wire,
Before coating
After coating
Barbed distance(cm)
Barbed length(cm)
Tensile strength(kg)

1.0-3.5mm

1.4-4.0mm

7.5-15

1.5-3

40-50

BWG11#-20#

BWG8-17#

BWG11#-20#

BWG8-17#

PVC/PE coating thickness: 0.4-0.6mm,different color or length are available at customers' request