Barbed Wire On Fence -
Barbed wire is a kind of isolation protection product that is easy to install and low in price. It is made by winding a barbed iron wire on the main wire (strand) through a barbed wire machine through a variety of weaving processes.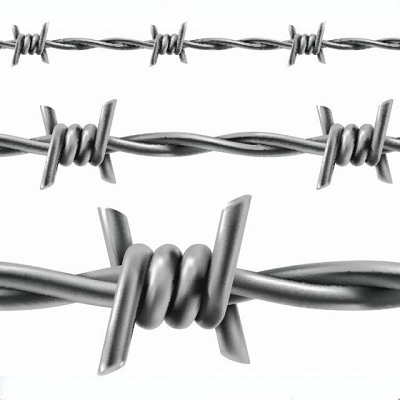 The three stranding methods of barbed wire: Forward twisting, reverse twisting, and forward and reverse twisting.
(1) Normal twist method: twist two or more iron wires into a double-stranded iron wire rope, and then wind the barbed iron wire on the double-stranded iron wire.
(2) Reverse twisting method: First, wind the barbed wire around the main wire (ie monofilament), and then twist the iron wire into a double-strand barbed wire.
(3) Positive and negative twisting method: twisted in the direction opposite to the winding direction of the barbed wire mesh around the main wire. It is not twisted in one direction.
The role of wire mesh surface treatment:
The reason for the surface treatment is to strengthen the anti-corrosion strength and prolong the service life. As the name suggests, the surface treatment of galvanized wire mesh is galvanized, which can be electro-galvanized or hot-dip galvanized; the surface treatment of PVC barbed wire is PVC coating, and the barbed wire inside is black wire, electroplated wire and hot-dip galvanized wire.
The following are the advantages of barbed wire:
(1) Sharp edges will scare intruders and thieves. Can protect your property
(2) High stability, rigidity and tensile strength to prevent cutting or damage.
(4) Resistant to harsh environments.
(5) Corrosion and rust resistance.
(7) Easy to install and uninstall.
(8) Easy to maintain.
(9) Durable and long service life.
Barbed Wire Packing Detail:
(1) Steel wire roller with steel wire handle.
(2) Steel wire roller with plastic handle.
(3) Steel wire roller with wooden handle.
(4) Wooden roller with rope handle.
Woven bag, by pallet, and as your request.